Get answers to your floor heating questions – running costs, prices, after sales support, floor heating guidelines and other topics here.
If we have not answered all your questions, please do not hesitate to contact one of our Speedheat consultants on our toll free line 0800-112215 or complete the contact form below.
We will be happy to answer any questions you may have.
COMPARING HOME HEATING SYSTEMS
With convection heating, air is being heated which subsequently rises to the ceiling whilst cold air gets sucked to the bottom of the heater. An oil-filled fin heater or reverse cycle air conditioner are typical convection heaters. The heat transfer from such heaters is 85% by convection (air flow) and about 15% is by thermal radiation. This air circulation causes drying of the skin as well as evaporative cooling.
Floor heating provides a much more comfortable environment as the heat is radiated evenly from the floor, leaving no cold spots, improving your comfort levels.
Heat generated from electric floor heating is radiant heat (like the warmth of the sun).  Radiant heat does not warm the air directly, but it warms all solid objects, including obviously, the occupants. There is minimal convection, giving you that tip-toe comfort.
Note the difference in comfort levels in the below diagrams: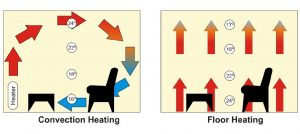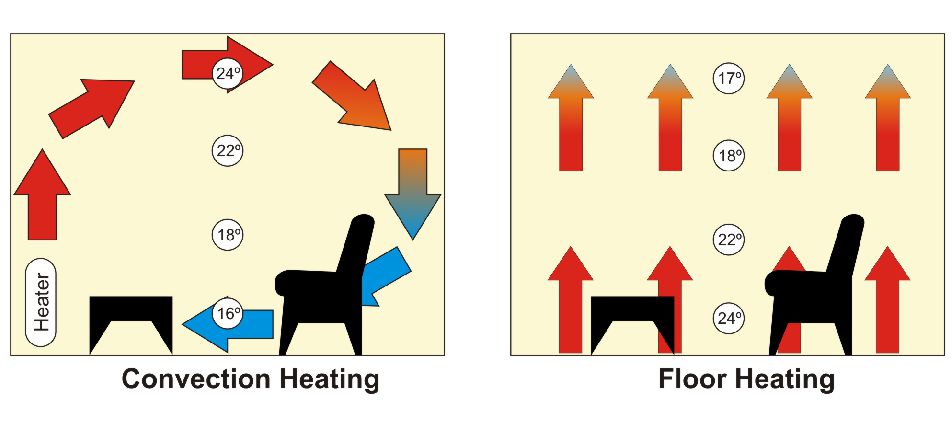 In this example, to achieve the same comfort levels experienced with floor heating, the convection heater standing in the corner of the room, would have to be turned up to atleast 45 – 50 Degrees Celsius, whilst the floor heating system will run at 26 Degrees Celsius, saving on energy consumption.
Hydronic systems use water as the heat transfer fluid that is circulated through a network of pipes between the floor and the boiler. 
The concrete slab acts as a thermal mass to retain heat, so that you have a large hot block underneath your floor.  Because of this thermal mass, systems take long to heat up.
Take a look at our comparison table.  We've summed up the pros and cons of each heating system:
SPEEDHEAT FLOOR HEATING VS HYDRONIC UNDER FLOOR HEATING SYSTEMS. 
Hydronic underfloor heating is better suited for the European climate with long cold winters.  The high thermal mass does not allow the heating system to respond quickly to changing weather conditions.
GUIDELINES WHEN CHOOSING A FLOOR HEATING INSTALLER
This can be a rather confusing and overwhelming task.
To ensure you invest in a safe, quality product that lasts a lifetime, we've listed some guidelines:
THE CONSULTATION
When requesting a quotation, ensure the sales consultant listens attentively to your heating needs and requirements.  This is very important during the initial consultation, as this will ensure that your expectations are met accurately.  Ask questions where you are not sure.
The heating consultant should take the following into consideration before recommending any product:
Your individual comfort levels and your expectations from your system.
An assessment of the area you wish to heat and possible heat loss areas (large bay windows in an open living area).
The direction the room is facing.
Insulation already installed (ceiling, floor and windows).
Whether or not you wish to install floor insulation below the heating system (this will affects the power density needed to effectively and efficiently heat the room).
All these factors affect the performance of your heating system.
SAFETY FIRST!
You do not want to compromise your safety.
Heating elements should have a full earth screen (0.5mm² according to IEC standards).  Fully earthed heaters need to be installed in all areas of your home, not just in wet areas like kitchens and bathrooms.
The electrical installation must comply with the SANS 10142 wiring code.
If you have any doubt about the legality of your installation please check with your electrician, who has a copy of the SANS 10142 wiring code, or check with the local authority, which issues the Certificate of Electrical Compliance. 
Most homeowners are not familiar with the SANS wiring code. The problem often only becomes apparent when a property is being sold and an Electrical Certificate of Compliance cannot be issued.
QUALITY AND PRODUCT STANDARDS
To ensure processes comply with quality standards, quality management systems should be ISO certified.  This means the management systems comply with the ISO standards. 
ISO 9001:2008 being the most recent audit.
IEC, CSA, UL are international organizations that regulate quality, product and safety standards.
PEACE OF MIND IS IMPORTANT!
Ensure that you are using a reputable, reliable underfloor heating supplier, not a fly-by-night company.
Ask about warranties and after-sales support.  Do some homework on the supplier's background and history.  Check previous projects and experience.
Should there be a problem with your underfloor heating system, you want peace of mind knowing that someone knowledgeable and professional will be there to attend to it.
A Speedheat consultant will advise you on the best floor build up to suit your floor finish and requirements.