Floor Heating Under Decorative Screed
A poured cement floor gives your home a contemporary and modern design appearance. The screed is a good choice for a household with children, pets or people with respiratory problems like asthma. 
Speedheat floor heating is the best for your screed flooring; it compliments your modern design with no visible heaters, whilst contributing to a healthy environment by preventing circulation of airborne dust and other allergens. Polished screeds are also one of the best types of flooring for floor heating as they are very conductive.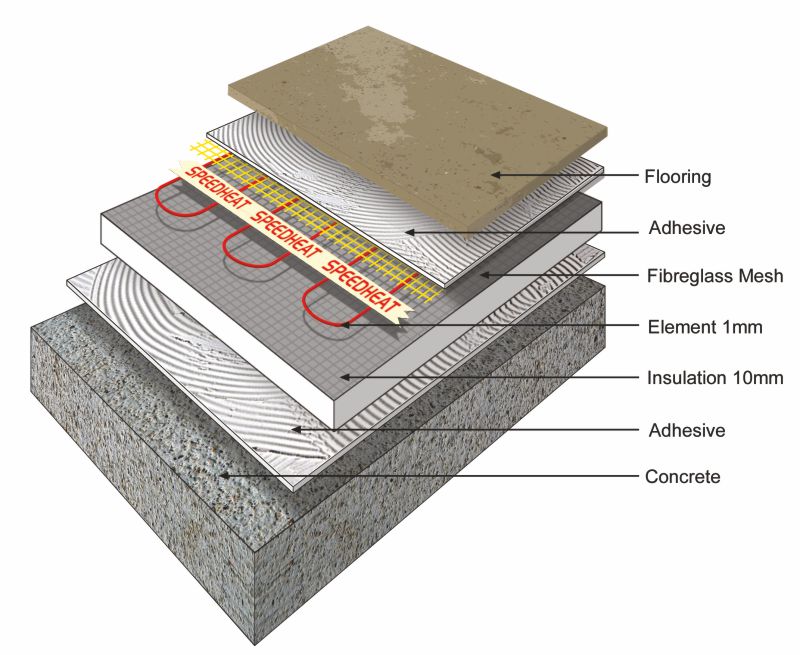 The under screed heating element is installed on top of insulation boards or insulated screed, and secured with adhesive fibreglass mesh, similar to the under tile installation. A protective screed is then applied and the floor is subsequently screeded. 
Insulation decreases downward heat loss into the cement slab, therefore increasing the efficiency and response time of your heating system.  Our insulation boards also act as a de-coupling membrane to reduce the potential for hairline expansion cracks.
Poured flooring suppliers are very satisfied with the Speedheat finish. The installer finishes the floor solid, neat and smooth.
ECONOMICAL HEATING
Speedheat underfloor heating systems are installed directly underneath the floor finish, this creates a much quicker response time with reduced energy consumption. Response time is from 30 - 45 minutes, depending on the floor finish and the insulation installed.
ELECTRICAL SAFETY
The Speedheat Element has a full earth screen for electrical safety.
Speedheat takes safety beyond minimum requirements and applies these rules in every single room, not only your bathrooms and wet areas.
SANS COMPLIANT INSTALLATIONS
All Speedheat installations are in compliance with SANS 10142 wiring code.
This means an Electrical Certificate of Compliance can be issued when selling your home.
PROFESSIONAL INSTALLATIONS
Speedheat brings you peace of mind with consistent quality and safety standards.
QUALITY GUARANTEED
7 Year Product and Installation warranty.
Thermostats carry a 2 year warranty.
SAFETY GUARANTEED
Speedheat complies with all applicable local and international safety and quality standards (IEC, CSA, UL).
A Speedheat consultant will advise you on the best floor build up to suit your floor finish and requirements.