Floor Heating Under Tiles
Tile and stone are ideal types of flooring to use with an underfloor heating system. All are excellent heat conductors, do not expand and contract a lot with heat and are highly resistant to warping or cracking, making porcelain, ceramic, or stone tiles a good choice for floor covering over radiant heating.
The under tile heating systems are 100% safe and waterproof. This makes Speedheat ultimately suitable for wet areas like bathrooms or kitchens.
Natural stone flooring types (marble tiles, slate, travertine, limestone, sandstone, granite, onyx) turn comfortably warm with the radiant heating system, bringing you comfort without compromising your choice of flooring. This modern solution is durable, reliable, safe and economical.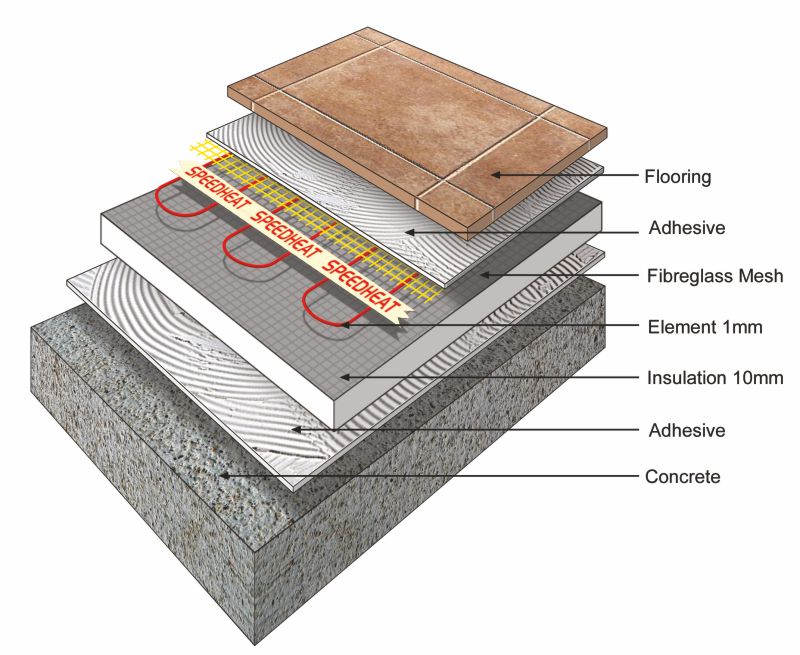 The under tile floor heating element is installed on top of insulation boards or insulated screed (5 – 10mm floor insulation board) and secured with adhesive fibreglass mesh.
A protective screed is then applied and the floor is subsequently tiled. 
It is important that some form of insulation be installed either on top of the builder's screed or by using an insulating screed. 
Insulation decreases downward heat flow into the concrete slab, thereby improving the response time and efficiency of your under tile heating system. 
ECONOMICAL HEATING
Speedheat underfloor heating systems are installed directly underneath the floor finish, this creates a much quicker response time with reduced energy consumption. Response time is from 30 - 45 minutes, depending on the floor finish and the insulation installed.
ELECTRICAL SAFETY
The Speedheat Element has a full earth screen for electrical safety.
Speedheat takes safety beyond minimum requirements and applies these rules in every single room, not only your bathrooms and wet areas.
SANS COMPLIANT INSTALLATIONS
All Speedheat installations are in compliance with SANS 10142 wiring code, bringing you ultimate safety.
This also ensures an Electrical Certificate of Compliance can be issued when selling your home.
PROFESSIONAL INSTALLATIONS
Speedheat brings you peace of mind with consistent quality and safety standards.
QUALITY GUARANTEED
7 Year Product and Installation warranty.
Thermostats carry a 2 year warranty.
SAFETY GUARANTEED
Speedheat complies with all applicable local and international safety and quality standards (IEC, CSA, UL).
A Speedheat consultant will advise you on the best floor build up to suit your floor finish and requirements.