Floor Heating Under Carpets
Speedheat electric floor heating panels heat your carpets economically and safely.  They are quickly and easily installed under existing or new carpets. 
The under carpet heaters are specially designed for even heat distribution to avoid overheating and hot spots.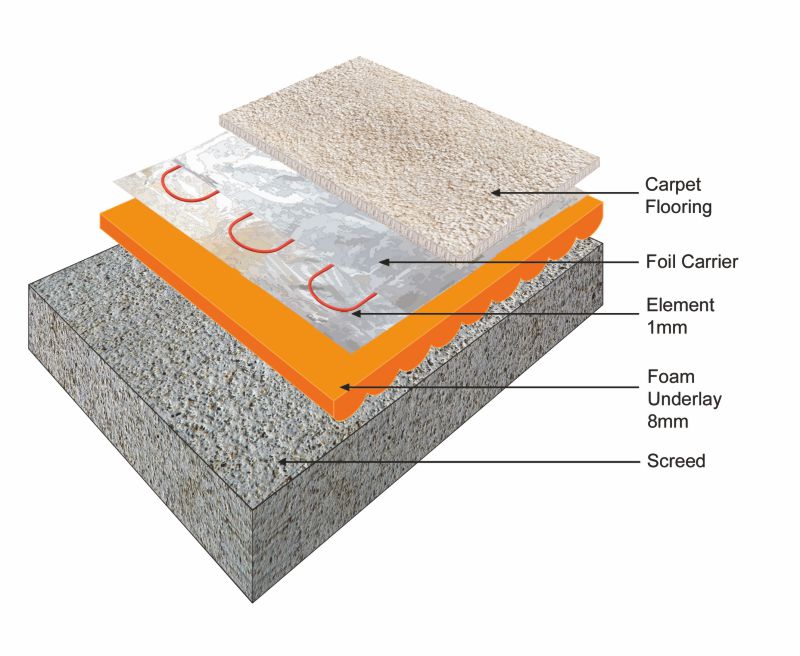 The under carpet heaters are sandwiched between  a high quality PET reinforced aluminium foil carrier. The foil carrier ensures even heat distribution and downward heat flow reduction.  The top layer is specially designed to promote radiation, resulting in your carpets being heated evenly and effectively.
A dry application where the under carpet heating element is placed on top of  the underfelt or foam underlay, just underneath the carpet. The under felt or foam underlay acts as an insulator reducing downward heat loss, increasing the efficiency of the heating system.
ECONOMICAL HEATING
Speedheat underfloor heating systems are installed directly underneath the floor finish, this creates a much quicker response time with reduced energy consumption. Response time is from 30 - 45 minutes, depending on the floor finish and the insulation installed.
ELECTRICAL SAFETY
The Speedheat Element has a full earth screen for electrical safety.
Speedheat takes safety beyond minimum requirements and applies these rules in every single room, not only your bathrooms and wet areas.
SANS COMPLIANT INSTALLATIONS
All Speedheat installations are in compliance with SANS 10142 wiring code.
This means an Electrical Certificate of Compliance can be issued when selling your home.
PROFESSIONAL INSTALLATIONS
Speedheat brings you peace of mind with consistent quality and safety standards.
QUALITY GUARANTEED
7 Year Product and Installation warranty.
Thermostats carry a 2 year warranty.
SAFETY GUARANTEED
Speedheat complies with all applicable local and international safety and quality standards (IEC, CSA, UL).
A Speedheat consultant will advise you on the best floor build up to suit your floor finish and requirements.