Manage your own temperature in your own space.
FLOOR HEATING THERMOSTATS
Thermostats are an important part of your Speedheat electric floor heating system. The thermostat is jointly responsible for the improvement of your comfort of living and the reduction in energy consumption. With Speedheat every room can be independently controlled with a programmable thermostat.
A room thermostat works by sensing the air temperature, switching on the heating when the air temperature falls below the thermostat setting, and switching it off once this set temperature has been reached.
Most people are comfortable with a room temperature of 20 – 22ºC.  We recommend that you test to see what temperature is most comfortable for you.  Because floor heating is mainly radiant heat, comfort levels are reached at much lower temperatures than with air heating.
Easy temperature control by simply turning the dial to your desired temperature! 
Speedheat's range of manual thermostats are perfect for rooms where a constant temperature is required or areas that are not used frequently. 
A Speedheat consultant will advise you on the best option for your floor type and requirements. 
User guides and specs can be downloaded using the links alongside.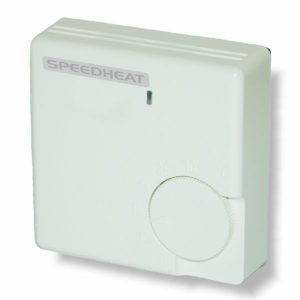 SPEEDHEAT KLIMASTAT
Simply turn the dial to increase or decrease desired temperature.
Centre set point is adjustable with the rotary knob set on 0.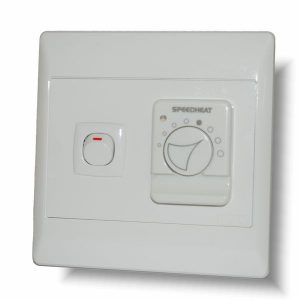 SPEEDHEAT EVOSTAT
Simply turn the dial to increase or decrease desired temperature.
Centre set point is adjustable with the rotary knob set on 0.
For rooms that are used regularly, a programmable thermostat would be a better choice as this will help you save energy. 
A programmable room thermostat is both a programmer and a room thermostat.  A programmer allows you to set "on" and "off" periods to suit your own lifestyle. 
A programmable room thermostat allows you to choose what times you want the heating to be on, and what temperature it should reach while it is on.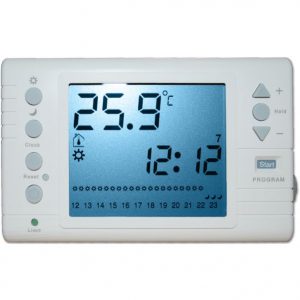 SPEEDHEAT EZEESTAT II
This thermostat can be operated in one of 3 modes:
ROOM MODE
The thermostat controls the room temperature by switching the
heating or cooling system.
FLOOR MODE
The thermostat controls the floor temperature (Floor heating only).
ROOM AND FLOOR MODE
Room temperature governs the heating whilst limiting the floor to
a set maximum temperature. (Floor heating with sensitive flooring - eg. vinyl and wood flooring).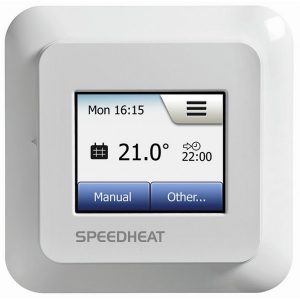 SPEEDHEAT EUROSTAT
Easy animated menu navigation and programming in 8 different languages.
Fast and easy set up.
Compatible with existing floor sensors, making it suitable for renovation projects.​
Easy read out of energy consumption.
Built in clock - calendar with power backup.
Thin, elegant design.
Smartphone wifi thermostats are the latest technology.
These thermostats can be controlled with your smartphone, from wherever you are, making your home safer and smarter!
Apps are available for Iphone, Android and Windows Mobile.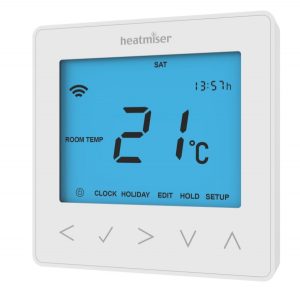 SPEEDHEAT NEOSTAT
You can easily control your heating system from your smart phone, to suit your lifestyle with the following features:
Going out
When going out and not sure when you will return, use the Away function.  This will set all of your rooms into frost protect mode - ensuring your home is protected against frost.  On your way home, simply cancel the Away function to switch your heating back to its programmed mode.
Geo Location
Geo Location works by using your phones Location Services feature.  The Geo Location Feature will automatically reduce the temperature in your home when there is nobody home and increase the temperature for your return. 
Standby
The standby function will turn the heating off in that room.  The room will still be protected against frost though, so the heating will be activated again should the temperature drop below your frost temperature setting. 
Comfort levels
With flexible comfort levels, you can have one temperature in the morning whilst you are getting ready for work, a lower temperature during the day whilst your are working, warmer in the evening whilst you are relaxing and a cooler temperature during the night whilst you are sleeping!
Multi-User
Other members of your family can also control your home heating by using the Share Feature.
Multi Home
You can control more than one home - perfect for holiday homes!
A Speedheat consultant will advise you on the best thermostat to suit your floor finish and requirements.