Which Heating System Is Right For Your Home?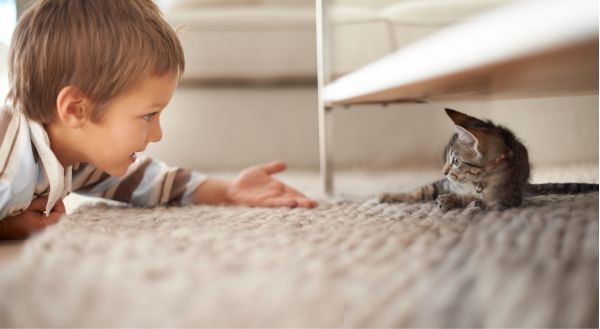 Choosing the best heating system for your home can be confusing with so many heating options on the market. There are also additional factors to take into consideration:

Room size, room design, occupants in your home (children, pets, the elderly), existing health conditions (allergies, respiratory illnesses), individual comfort levels, rising energy costs, and of course power cuts in South Africa.
Comparing Heating Sources
We look at the most common heat sources: Gas, wood, electricity, radiant, and solar.

When comparing heat sources, given the high cost of bottled gas, electric heating is still cheaper in South Africa.
Looking at increased comfort, cost and power usage, and taking health into consideration, the most effective heating option is a radiant heat source, such as floor heating. Radiant heaters are the most energy effective because they heat up objects and not the air, your home retains heat much better than air heating which is evaporated rapidly.
A Closer Look at Radiant Floor Heating
Radiant Heating means no circulation of allergens in the air, which is advantageous to people suffering from allergies and respiratory conditions. Warmer floors inhibit the growth of certain viruses, molds, and dust mites in your home.
Heaters are hidden, promoting a safe living environment for children and pets in your home, with no hot surfaces that can be touched and no risks of electrical shock.
An interesting fact is that 1kW of electric floor heating will be more efficient and cheaper to run than a 1 kW conventional heater, due to the even spread of radiant heat over the floor surface.
Speedheat electric floor heating systems are easily and quickly installed directly underneath the floor surface. This includes existing carpeting and laminate flooring.
Pros and Cons
We've summarised the pros and cons of the most popular home heating systems, taking all these factors into consideration.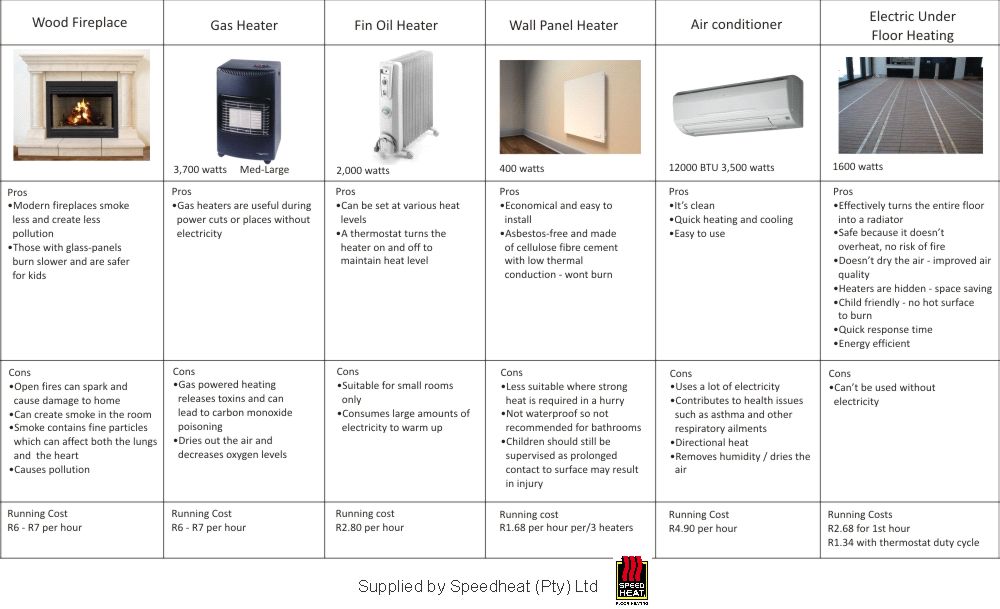 It is always advisable to seek the advice of an expert who can properly analyze the design of your home, the presence of energy-efficient doors and windows, and all-round insulation in your home, which all contribute to the efficient running and performance of any heating system.
Please note that the above calculations are based on the following:
*Room size to be heated 20m² (4m x 5m).
*When comparing heaters we are assuming the heating requirements for heating a 20m² evenly and effectively, with no insulation.
*Based on Eskom rate of R1,40 per kWh. 
*Gas is calculated at R1.68 per kWh and wood at R2,89 per kWh.
*Comfort requirements vary from person to person.
*Running costs are also influenced by external factors like insulation, heat loss areas, etc.
*These calculations are based on the installation of a Speedheat floor heating system.
More interesting reads:
4 Energy Saving Facts You Should Know – Underfloor Heating
Read more on floor heating running costs under FAQs