Renovating Your Bathroom? Here's Everything You Need To Know About Heated Bathroom Floors.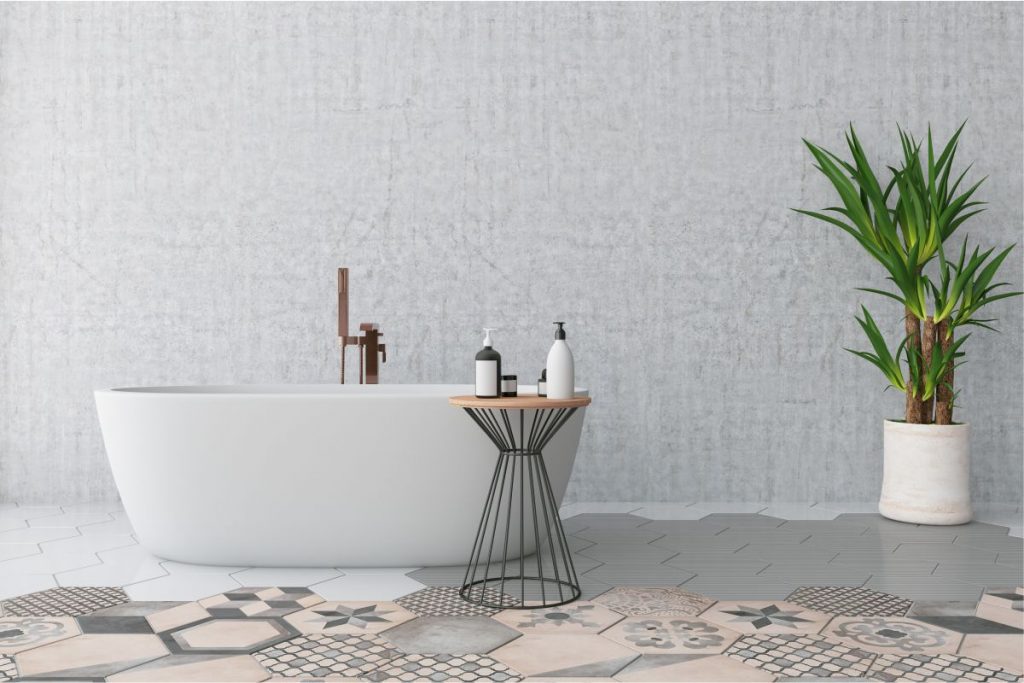 If there's a room that deserves a little luxury, it's the bathroom…

When renovating your bathroom, electric floor heating or radiant floor heating is worth considering if you're looking for ways to keep a bathroom toasty and warm, and replacing the floors anyway.

Floor heating provides a much more comfortable environment as the heat is radiated evenly from the floor, leaving no cold spots, and improving your comfort levels. The heating system can also be extended to the walls for unmatched comfort!

When compared to convection-type heating, it is definitely a more efficient way of heating.
Why Is Under Floor Heating More Efficient?
Comfort levels are reached at much lower temperatures with floor heating because of the large surface area being heated. It effectively turns your whole floor into a heater. This means that the thermostat can be set at a lower temperature to warm the room – only a couple of degrees warmer than normal room temperature. This way, the heating system uses 15-40% less energy than traditional convection or stand-alone heaters which are only warming one corner of the room.
What's more, the lack of air movement reduces dust and allergens circulating in the air, making this form of heating a much healthier choice for people with allergies and respiratory conditions.
Not only does floor heating make bath time much cozier and comfortable for kids too, it is so much safer with no hot surfaces to touch, and no risks of burning or electrical shock. Supervision is also not required.
Are Floor Heating Systems Safe In A Bathroom?
Understandably, one of the questions people have regarding electric underfloor heating in a bathroom is whether the system is safe, taking into account the fact that water and electricity are a dangerous combination.
Speedheat under tile heating systems are 100% safe and waterproof. The electrical installations comply with the SANS 10142 wiring code for your safety. All our heating elements have a full earth screen (0.5mm² according to IEC standards). Fully earthed heaters are installed in all areas of your home, not just in wet areas like kitchens and bathrooms.
Is Floor Heating Expensive To Run?
Let's do the math!
Running costs depends on the following: your current electricity rate (R/kWh), the capacity of the heater installed, and the occupancy in a particular room.
For this example, let's assume a medium-sized bathroom of 9m² and a heater with a capacity of 950 watts is installed. The calculation would be as follows:
950 W / 1000 = 0.95 kW.
0.95kW x R1.44 = R1.37p/hour for the first hour only. After the first hour, your running costs should reduce to about R0.68 p/hour, with the use of the thermostat or controller.
Also, remember the floor heating system will not run the whole day in the bathroom. Bathrooms are generally used for the first 3 hours in the morning and 3 hours in the evening at the most when everybody is home from work and school again. Simply program your thermostat to warm up your bathroom half an hour before bath time!
Furthermore, if floor insulation is installed underneath the floor heating system, these costs will also be reduced.
What Type Of Flooring Is Best Suitable For Floor Heating?
Tile and stone are ideal types of flooring to use with an underfloor heating system, as they are excellent heat conductors, do not expand and contract a lot with heat, and are highly resistant to warping or cracking, making porcelain, ceramic, or stone tiles a good choice for floor covering over radiant heating.

Screeded floors, vinyl, and waterproof laminated flooring, which are also quite popular flooring choices in the bathroom nowadays, are heated just as effectively and efficiently with Speedheat floor heating systems.
How Long Do Heated Floors Last?
Speedheat underfloor heating is a maintenance-free floor heating system that lasts a lifetime. That's much more when compared to a normal convection heater.
Can The Floor Heating Systems Be Repaired?
Should a repair be necessary on the heating system, the support technician will pinpoint where the fault is with our testing equipment. The heater can often be repaired by lifting one tile only. Hydronic floor-heating systems do not offer this benefit.

We often suggest to homeowners that a few tiles be kept aside after installing floors for just in case.
Pros And Cons Of Heated Bathroom Floors
Pros
Produces a smooth, even heat.
Works well with traditional bathroom flooring materials.
Heaters are hidden and quiet.
Improved air quality and healthier living environment.
Safer for the elderly and children.
Adds a sense of luxury and comfort.
Cons
Requires tearing up the existing floor to install (which is why it's ideal to install during a renovation).
In the unlikely event that something goes wrong you may have to remove some of the flooring. Depending on the issue it could be an easy fix and one/two tiles are lifted.
Higher initial costs than a forced air heater (however you'll see savings over time).
And, this is why more and more homeowners are opting for a heated bathroom floor. No more dreading the cold bathroom floor during the winter months.
Most importantly, having a heated bathroom floor is a key selling point, which adds considerable value to your home. So if you're looking to resell or flip property on the market, a heated bathroom floor is a smart strategy for getting you the best price.
MORE INTERESTING READS
More On Under Tile Heating Installations

See Our DIY Floor Heating Kits